Wilko filed a notice of intent to appoint administrators today, putting 12,000 jobs at risk in a move that seemed sadly inevitable in recent months.
Over the past year the business has struggled with a lack of cash and poor product availability, which had led to many shoppers ditching the retailer.
In recent weeks, the retailer's owners had been looking to sell a controlling stake as it raced to secure the chain's future.
Although there had been a "significant level of interest" according to Wilko CEO Mark Jackson, no deal could be struck in time to give the retailer the cash it desperately needed.
But where did it all go wrong for Wilko, a brand much-loved by many shoppers?
Falling behind the value competition
Wilko has found itself in a hugely competitive marketplace with a throng of discount rivals such as B&M, Poundland and Home Bargains all growing rapidly and stealing its market share.
GlobalData retail research director Patrick O'Brien says that its rivals "really eroded its competitive position and undercut Wilko on price", which has created long-term damage to the business.
Wilko's retail sales were larger than B&M's a decade ago, now they are a 1/3 of its value competitor. Also fallen below Poundland, Home Bargains, and The Range pic.twitter.com/syO4dL5Wv8

— Patrick O'Brien (@pat_gdretail) August 3, 2023
Indeed, Wilko has recorded sales declines in its last four financial years, with revenue falling by 18.6% between 2017/18 and 2021/22.
It also made a £35.9m loss in its last financial year, more than its operating profit from the previous four years.
GlobalData senior data analyst Matt Walton says that the retailer has been "caught in a pincer movement" on both price and design.
"It has been outflanked on price by the likes of B&M, Home Bargains and The Range while it is unable to compete on design with the likes of Dunelm or Ikea."
Since 2015, B&M, Home Bargains and The Range – which have all been in store expansion mode – have all overtaken Wilko for non-food market share.
Wilko was also the only one of these retailers not to gain share over this period, according to Walton.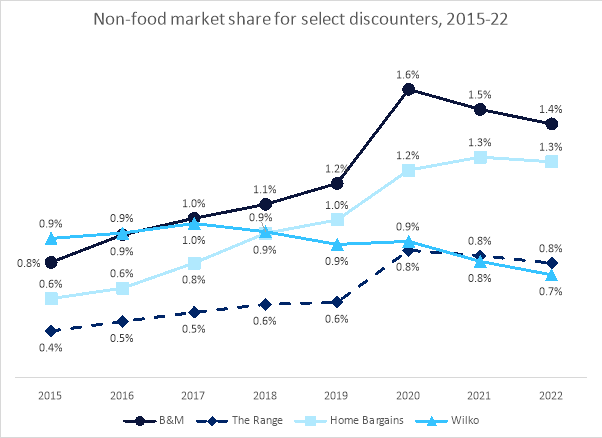 Retail analyst Richard Hyman agrees: "Wilko is a business of missed opportunities, and it must be galling for the owner family to look back at what B&M and Home Bargains have become."
Structural issues
Hyman believes there are some fundamental things holding Wilko back. One of those things is its store location.
"Wilko is a predominately high street format and that's a mistake. A store like Wilko does not need to be on high street. It's a mission purchase," he says.
Bloomberg Intelligence retail analyst Charles Allen agrees. "B&M has also moved many of its locations to retail parks, which are more convenient for many consumers, especially when they are buying bulky goods.
"Many Wilko locations are still in traditional town centres or shopping centres nearby, such locations have become progressively less attractive as other retailers have either closed or relocated to retail parks."
Hyman believes that its stores are also too large, and the fact Wilko is located in high streets mean it will be paying more rent than its retail park rivals.
The retail analyst also says its range is too vast in these stores.
"B&M and Home Bargains have edited ranges and focus on faster moving home-related stock. They don't sell anything like the amount of DIY that Wilko sells," he says.
"Wilko has too much slow-moving stock in categories it has no authority in. It needs an offer that is optimised to turn stock. In retail, carrying stock for months is what kills you – and that is exactly what Wilko will be doing."
The retailer has already made moves to exit some categories, scrapping toys late last year.
The pandemic and cash crunch
The pandemic inevitably had an impact on Wilko and O'Brien says it "never managed to recover", explaining that the business faced a major cash crunch when lockdown ended that senior management weren't able to alleviate.
Hyman believes that the pandemic may have "papered over some cracks and camouflaged structural weaknesses in many businesses".
"This is unfolding gradually as government support is withdrawn, landlords are able to resume pressure for rental payments and normal commercial relationships resume."
It became evident that cash flow was tight last year and the retailer took action to preserve it.
"It didn't have spare cash to really invest in keeping the business on a forward footing," Patrick O'Brien.
Ahead of Christmas last year it deferred supplier payments and asked landlords to move to monthly rents. However, it was dealt a major blow when credit insurers Allianz Trade and Atradius pulled cover in October.
This has made life difficult for Wilko ever since with many suppliers demanding payment for goods upfront, something incredibly difficult for the cash-strapped retailer to do. This has led to poor availability across its stores for the past year.
Although it was given a lifeline when it secured £40m in funding from restructuring specialist Hilco late last year, it was not enough to make a notable difference to the business, leaving new CEO Mark Jackson, who took the helm late last year, hamstrung.
"It didn't have spare cash to really invest in keeping the business on a forward footing," says O'Brien.
What next for Wilko?
The retailer has filed its notice to appoint administrators, which stops creditors taking action whilst it explores rescue options.
There is still hope for the retailer and the business continues to pursue a sale.
It started the process last month and Jackson says it has had a "significant level of interest, including indicative offers that we believe would meet all our financial criteria to recapitalise the business".
Although an offer was not able to come in time to give it the "necessary liquidity" needed right now, Jackson says it will continue to progress these discussions "with the aim of completing a transaction which preserves the business".
He encourages interested bidders to "move as fast as possible".
"We continue to believe that our robust turnaround plan, with significant re-stabilisation cost savings in progress, will deliver a profitable Wilko and maximise the significant opportunities that we know exist," he says.
Hyman says that any bidder would need "deep pockets, patience, and a clear vision".
"As it's currently structured, I think it would be difficult to get a different performance from the business. The flaws are structural. It needs a different store footprint and to revisit its product offer. That will take some time and we're in a very unforgiving retail market," he says.
Walton adds that the retailer needs to "create a compelling offer to encourage shoppers to consider purchasing from it again".
"Incorporating more design elements into its offer will help achieve this, as well as improving the store environment and more effectively integrating its online and in-store offer.
"Without a clear strategy for what its retail proposition should be and how it can achieve this, Wilko risks following Woolworths down a similar part of irrelevancy."
No-one wants another Woolies-style casualty to further batter the high street. Hopefully a white knight armed with funds and a vision can help return Wilko to former glories and prevent the loss of thousands of jobs.
---
Subscribe to Retail Gazette for free
Sign up here to get the latest news straight into your inbox each morning 
---
Wilko: a brief timeline
May 2021: Wilko full year pre-tax profits drop and sales decline £107m thanks to a "challenging retail landscape" in the wake of the Covid-19 crisis.
January 2022: The retailer reveals plans to close 15 stores in 2022, putting hundreds of jobs on the line.
September 2022: Supplier payments are deferred and extended in a bid to manage cash flow. Wilko asks landlords to pay its quarterly rent bill in monthly instalments as it conserves cash to stock up for Christmas.
October 2022: The business drafts in advisers from Teneo as it tries to find ways to cut costs.
Credit insurers Allianz Trade and Atradius withdraws cover for the firm.
November 2022: Wilko tries to secure an emergency £30m cash injection as cost pressures intensify in the run-up to Christmas as managing director Alison Hands departs the business.
The retailer posts a £36.8m loss in the year to January 29, 2022 in 'incredibly difficult period'.
December 2022: The company names Bensons for Beds boss Mark Jackson as its new CEO as talks continue over a refinancing.
January 2023: Wilko secures a £40m lifeline from Homebase and Cath Kidston owner Hilco UK and tells suppliers it will no longer stock toys across its stores, as it focuses on selling garden and household goods.
February 2023: The business reveals plans to axe over 400 jobs as it looks to control costs and shuffles its senior leadership team
May 2023: Wilko considers launching a CVA to cut rent costs and potentially close stores
June 2023: The retailer hires property agent CBRE to help negotiate lower rents as PwC lined up to manage a CVA.
July 2023: The business looks to secure fresh funding as its owners consider selling a controlling stake
Hilco agrees to lend about £5m in additional funding to Wilko as it faces an intensifying cash squeeze.
August 2023: Wilko files a notice of intention to appoint administrators after failing to find investment, potentially putting 12,000 jobs at risk.
Click here to sign up to Retail Gazette's free daily email newsletter