Ikea's marine-focused Blåvingad toy line is the inspiration behind a new interactive AR experience — Lilla Äventyret (The Little Adventure) — that launched in 21 Ikea stores across Sweden on Feb. 13, 2023.
Designed to make children's time in the store more enjoyable and get more people to care about keeping our oceans clean, the game was developed in partnership with Meta and Stockholm-based immersive tech company Warpin Reality using Meta's Spark AR technology.
"As technology evolves, so do the opportunities for brands to create more compelling and immersive experiences," said Josefine Billström Raasakka, Creative Strategist at Meta in a statement. "This project is an interesting step in creating a richer customer experience at Ikea by weaving in technologies such as augmented reality as part of the shopping experience."
Ikea's Blåvingad toy collection launched in October 2022 and is produced in part from recycled plastic cleaned from the ocean. According to the company, the goal of the collection is to "help future generations become more aware of how pollution and littering affect nature and in particular our vital oceans."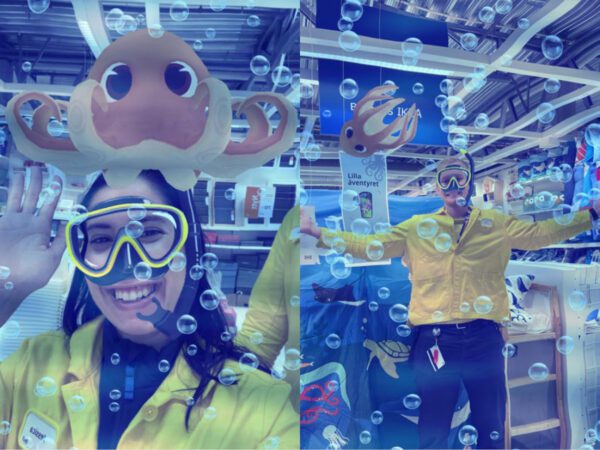 The new in-store AR game is designed to increase interest in the collection as well as share knowledge about life under the surface. Lilla Äventyret opens as a filter in the Instagram app that's accessible via QR codes at stations throughout the store. Users can learn about sea life and pollution prevention, take a virtual swim with sea creatures and take pictures with special filters and characters from the toy line.
The campaign will run through Sweden's Wintersport holidays, which typically conclude in early to mid-March.
"We are constantly exploring new ways to meet our customers," said Helena Gouiveia, Marketing Manager at IKEA Retail Sweden in a statement. "Thanks to the game, children can learn more about marine life and what happens under the surface while they are in our stores."