As any beauty loyalist will attest, there is nothing more gut-wrenching than a favorite product being discontinued. Beauty brands know this, of course, which is why the decision to discontinue a product line is never taken lightly.
Prestige beauty brand Benefit Cosmetics found itself in this tricky situation last year when it decided to replace its current line of blushes with a new range. But rather than being a disappointment to customers, the beauty brand turned the moment into an exciting event that delighted loyal fans and brought in new ones.
Benefit launched an omnichannel campaign for the new range with the help of long-time partner Bloomreach to generate excitement around the new product line. The results were blush-worthy: product launch emails saw 50% higher click-through rates than the brand's typical campaigns and generated 40% higher revenue than similar emails throughout the year.
They did it by:
Turning the product launch into an event with a wait list and exclusives;
Mapping out a steady cadence of communication from pre- to post-launch; and
Personalizing communications to different customer segments depending on their relationship with the brand and product line.
A Blush with Fame
Founded in 1976 by sisters Jean and Jane Ford, Benefit Cosmetics has become a top-ranking brand in both the U.S. and UK, known for its cult favorite products and more than 3,000 Brow Bars around the world. In 1999, the company was acquired by Louis Vuitton Möet Hennessy, but perhaps its biggest brush with fame occurred in 1997 when Princess Diana made a surprise visit to the brand's newly opened counter at the famed Harrod's department store.
"Ultimately, though, we became big because of what our brand stands for and the quality of the products we offer," said Carla Raven, Senior Customer Relationship and Insights Manager at Benefit Cosmetics in an interview with Retail TouchPoints. "No matter the country, customers gravitate toward the fun of the Benefit brand and the feeling they get when they use our products."
That element of fun was a big factor in the brand's decision to redesign its blush offering. "We're always evolving and looking to introduce new products that our customers will love," explained Raven. "This new blush line offers more ways for customers to play around with their makeup and explore new shades. It has more variety of shade range with deeper product payoff and also offers slimmer and sleeker packaging."
Fostering Blush FOMO
To help drive buzz for the launch, Benefit kicked off the campaign with a pre-launch wait list that was promoted across several channels, including email, paid social, organic social and the brand's website.
"The overall strategy was really driven by awareness — making sure current customers knew about the launch and also getting it in front of new customers," said Raven. "Driving customers to our launch wait list was central to that strategy. The wait list signups allowed us to have direct contact with customers to share timely updates leading up to the launch date and beyond. They also were the first to gain access to the launch, which created an important sign-up incentive and a great way for us to offer exclusivity to our engaged customers."
Wait list registrants received an initial email when they signed up and then a countdown email two days prior to launch. This countdown email included an "add to calendar" button so shoppers could easily save the date, as well as an exclusive product offer. The response among this highly engaged consumer set was remarkable, with a 10% click-through-rate (in retail, a 2.5% CTR is considered strong).
Additional emails were sent to all Benefit customers on and after launch day. "With further segmentation of our customer data through Bloomreach, we were able to offer VIPs and previous blush purchasers a separate email promoting the launch as well as a special offer," described Raven. "Later, we were able to generate additional revenue by retargeting any of these customers who had clicked the email but not redeemed their offer."
Secret Ingredient: Segmentation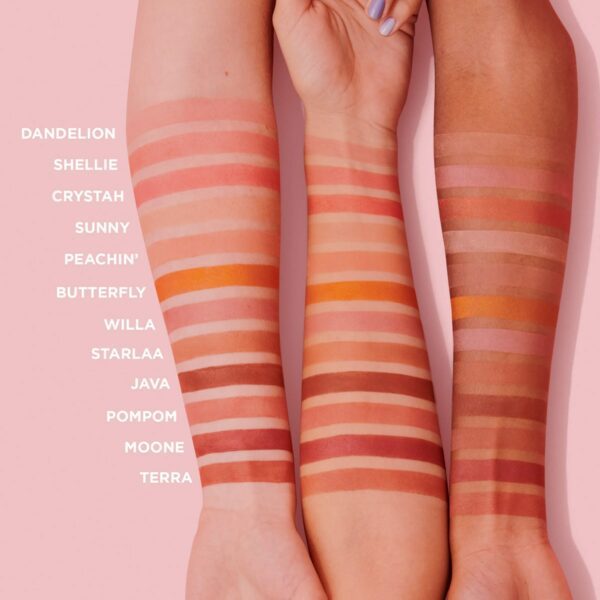 The campaign broke a number of records at Benefit, but perhaps most impressive was that, beyond communicating the new offering to existing customers, it was also hugely successful at drawing in new shoppers. Of the customers who signed up for the blush launch wait list, 47% were new customer opt-ins.
"We saw record engagement in our emails as well as in our wait list signups," said Raven. "We were really happy to see how engaged customers were and how excited they were to explore a new product line."
Revenue from the blush campaign emails was 40% higher than Benefit's average launch emails, which Raven attributed to a number of different factors: "Our blushes have a loyal customer base, so naturally when we announced a new line these returning customers engaged with our messaging to learn more about the upcoming product launch," she said. "We were also able to personalize our email campaign based on customer behavior and interest, meaning customers saw emails that were relevant to how they shop and what they want to see from us."
This combination — creating a sense of excitement around the launch and segmenting communications based on customer preferences — were key to the campaign's success. "Customers were more engaged with the communications we sent them because those communications were tailored to what they actually wanted," said Raven. "We also used a lot of reports and analytics from Bloomreach to understand how the campaign was performing, where we could optimize and what we could change to drive even greater success in future campaigns."
"What Benefit accomplished with this campaign shows how much a single marketing campaign can achieve when marketers are empowered with the right tools to bring their ideas to life," added Amanda Elam, Chief Marketing Officer of Bloomreach in an interview with Retail TouchPoints. "In today's marketing landscape, there's so much access to customer data. But it's just a bunch of numbers unless you can activate that data in a way that makes a difference for your customers. You have this incredible understanding of who your customer is and what they want — use that to build campaigns and content that are highly personalized, because when you're communicating on that one-to-one level, customers are far more likely to hear what you're saying, and you have a much greater opportunity to convey the benefits of whatever it is you're telling them."