Retail is one of the largest sectors in the world, with a retail sales forecast of $30.3 trillion in 2023. In a market so large and competitive, businesses compete to stand out to deliver bigger and better.
The question that arises now is, how can businesses stand out?
According to Forbes, today's business benchmark is customer experience. The key to having that edge over the competition is delivering top-notch customer experience, ensuring the quality of well-trained staff and continuously studying customer behavior and trends to ensure that customer needs and expectations are met.
Let us look at a few ways to improve customer experience in the retail industry through knowledge management.
What is Knowledge Management and Why is it Important?
Across organizations and industries, knowledge management is the conscious effort to define, organize and store information so that it is accessible to those who need it, when they need it.
Have you ever had your best-performing employee leave, taking all their expertise with them? This is a common experience in all organizations. But what if there was a way to prevent knowledge loss with every employee turnover?
Well, there is. A proper knowledge management strategy will help you not only organize and store expert advice and information but also improve the customer experience overall.
With the right knowledge management system in place, employees can better train and organize resources and training material for their staff. By using an effective knowledge management platform, the employees will have access to the same up-to-date information across teams or branches.
To better understand how knowledge management works in the retail industry, let us look at the three levels of knowledge management processes.
Knowledge acquisition.
This involves all the information required to ensure smooth operations of the business. It is further divided into two:
Explicit knowledge: This type of knowledge is easy and articulate to write down and store. It includes instruction manuals, return processes, and guides.
Tacit knowledge: This type of knowledge is more subtle and nuanced. It involves learnings from personal experience and individual wisdom.
Knowledge conversion.
This process involves the organization of all knowledge stored so that it is readily available to those who need it. Using a knowledge management platform is one of the best ways for this step.
Knowledge application.
Finally, the last step of the process is the application. This is where you directly apply all the stored information, whether it's dealing with customers through support channels or running operations and planning.
How Can Knowledge Management Improve Customer Experience in the Retail Industry?
Knowledge management can give retail businesses a competitive advantage by elevating the customer experience, by providing quality and consistent customer service. Let us look at a few ways how.
Up-to-date information.
One of the major advantages of using a knowledge management system is the consistency of knowledge available to all employees, irrespective of time and place. All new policies and information, product knowledge and listings are updated in the knowledge base. With this information only a click away, employees can quickly address customer issues and provide resolutions.
For instance, call agent scripts have to be frequently updated when a new product or service is launched. Using a knowledge base, call center scripting is a process that can be easily resolved with every new launch. In this way, the support agents have easy access to new information on their fingertips.
24/7 support through self-service portals.
According to a report by Harvard Business Review, 81% of customers prefer to resolve issues themselves before contacting a live agent. This could be due to various reasons. People's increasing need for privacy, tight schedules and past experiences with rude customer support agents are only a few.
By using knowledge management tools for self-service, businesses can improve customer experience in the retail industry by empowering customers with the knowledge and power to take matters into their own hands.
In addition, a quality knowledge management system will not only improve CX for an excellent client experience but will also lessen stress and brain emigration among your support staff.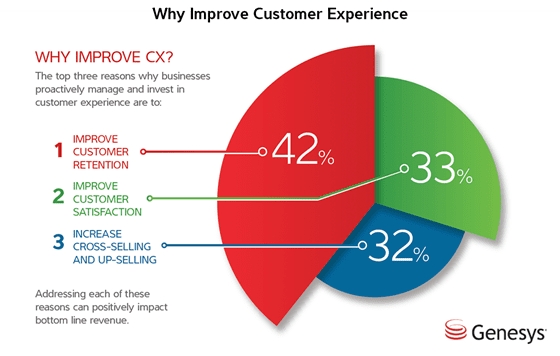 Streamlined training and knowledge retention.
No matter how good your retention rate is, employee turnover is inevitable in any organization. The problem that arises is twofold — loss of knowledge with every employee exit, and training new staff to help them be job ready.
In the U.S., the employee turnover rate in the retail sector is as high as 60%. With such a high rate of employees joining and leaving, the only way to ensure smooth transitioning is to have a solid training system in place.
By using a knowledge management system, the expert knowledge of employees is stored within the organization. This information can then be used by present and new employees when required.
A knowledge management system can also improve customer experience in the retail sector by reducing employee training time so that they are up to date with their roles in sales and support.
Omnichannel support system.
Did you know that 88% of businesses now give customer experience a top priority in their support centers? Yes! That demonstrates how crucial customer experience is to your company.
By building an omnichannel customer support strategy, you can gain insights into your customer behavior, preferences and patterns. An omnichannel strategy will also ensure cohesive brand communication between your sales, marketing and customer experience processes.
An omnichannel strategy also helps elevate the customer experience by offering personalized interaction with your business. While some customers prefer the traditional live support help channels, others prefer using self-service portals to solve their issues. However, having the option to contact a live agent is also extremely crucial in case of more complex issues. By having that option easily available to your customers, you reduce their frustration in searching for the help they require.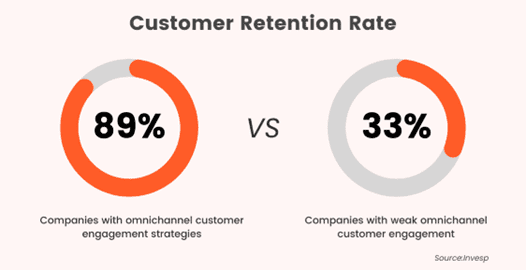 Conclusion
Knowledge management through a comprehensive knowledge management platform can help boost your business in multiple ways. From improving customer experience and satisfaction to boosting agent productivity and performance, a knowledge management platform can give your retail business a competitive edge over your competitors.
---
Baphira Wahlang Shylla is a member of the digital marketing team at Knowmax, a SaaS company that provides knowledge management solutions for various industries that are seeking to improve their customer service metrics. Other than her passion for digital marketing, she is an avid reader who dabbles every now and then in painting and digital art.